Vinyl Flooring in Northern KY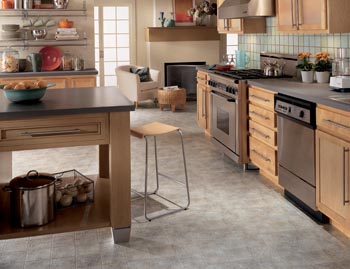 Buddy's Flooring America in Northern Kentucky carries a large selection of natural-looking vinyl flooring for unbeatable prices. We feature Mannington and Naturcor vinyl floors that can emulate the appearance of wood or ceramic tile. Our vinyl floors will produce an alluring home while still delivering incredible durability and versatility.
Call <PHONE> to speak with a representative!

A High-end Look
As an inexpensive alternative, vinyl flooring can replicate the grains and edging of hardwood or the elegance and visual appeal of stone. The aesthetic possibilities available with a vinyl floor covering are endless! Whether you need moisture-resistant vinyl plank flooring or envision sleek LVT, we can help in any way as you choose a quality floor.
Our outstanding selections of discount vinyl flooring can provide your household with the following benefits:
Easy maintenance
Maximum resistance to dampness
Seamless design
Various patterns
Protective wear layer

Great for Your Lifestyle
We present vinyl flooring as a solution for active homeowners. Vinyl creates a unique look while also staying true to its reputation as a strong and scratch-resistant floor. As an ideal pick for kitchens and bathrooms, it can endure daily wear and tear, moisture and frequent traffic. Young families will appreciate vinyl's easy-to-care-for qualities. It requires routine cleaning such as regular mopping as needed to remove buildup. Our flooring professionals provide manufacturer-recommended floor care tips that will help preserve the appearance of your floor.
Please Call <PHONE> for Vinyl Floors.


We proudly serve the communities: Northern Kentucky, Florence, Erlanger, Elsmere, Lationia, Union, Walton, Dry, Ridge, Petersburg, Independence, Fort Thomas, Fort Wright, Boone, Kenton and Campbell Counties.